The software industry, especially in the area of MarTech, offers many exciting, interesting and varied careers – especially in the field of software development.
 
In an interview with the industry blog BASICthinking, our developer Felix Pattmöller introduces his special role as Cloud Developer at matelso. In the conversation with the editorial team, he describes his daily routine, his responsibilities and how he got his job. He also provides useful tips for young professionals and career changers who are interested in the job profile of a cloud developer.
The interview appeared on July 26, 2022 on BASICthinking.

However, interested people can also read the complete interview here on our blog:
- Felix, you work as a cloud developer with a focus on highly scalable cloud applications at matelso. Describe to us in four sentences how you explain your job to new friends.  

That's always a thing with me: matelso is active in a highly regulated and data-driven industry – in the truest sense of the word: telecommunications. This means that in our daily work we deal with highly sensitive data and therefore have to pay attention not only to the GDPR, but additionally to the provisions of the Telecommunications Act. That's why I don't talk in depth about my job with new acquaintances right away.

So I usually put it in very abstract terms: "I collect and analyze data to provide our customers with statistically provable decision-making tools about consumer behavior."

- What does a normal day at your job look like? 
For starters: completely normal days don't exist in my job – that would be boring, after all. The nice thing about working at the MarTech provider matelso is that every working day writes its own story for us developers: Usually starting with a new challenge that first needs to be understood. The pitfalls behind it have to be analyzed and evaluated, then we think about which software components could be affected by this issue and what specifically needs to be done to solve the problem.

Once that's done, we can get to work and start creating new things for our Call Tracking or Digital Customer Experience Solutions. It's not just a question of what new features we might need or how the systems should then look so that it's fun to work with. Rather, it is important to plan strategically – also with a view to the overall software architecture – how everything fits into the solution and interacts with all the other components. Everything has to work seamlessly, otherwise the entire user experience and thus the value of our software is lost.

And last but not least: as a cloud developer, I think from the user's perspective all day long – everything has to be geared towards making the work of the person using the solution easier and helping them to fully exploit the potential of their business.

- And what do you start the day with?

After shaking the sleep out of my limbs, I devote myself to the most important task of the morning: making coffee. Then it's off to the office and the day begins.
- What tasks fall within your scope?  
Because, in order to take the right measures, you really have to understand how components work together within the application and how different elements interlock so that the desired result comes out in the end – not to mention that the developer first has to analyze where optimization is even necessary or would generate a real improvement. To make this more tangible and plannable, we at matelso therefore work a lot with microservices, which we develop and code ourselves. These micro-applications can be seamlessly integrated into the corresponding functionality clusters and can thus be quickly and easily used either to control other components such as telephony, video or chat servers more optimally or to provide other services and thus optimize the processes in our call tracking system. The result is almost always a significant increase in the user experience – after all, it has to be fun to work with software.


- How do you personally define and interpret your job as a cloud developer? 
In my role, I'm key in ensuring that our software solutions for call tracking and lead management run smoothly – all components, from telephony over IP to web tracking, must mesh seamlessly at all times and deliver the most value-added results. Moreover, especially in the MarTech industry we live after these maximes: "stagnation is death" and "nothing is as constant as change!" Therefore, I am continuously interacting with the product owners, who have the overall responsibility for their speciality, as well as the product managers, who are fully responsible for the product, to find out during ongoing operations what additional features we can offer our customers to optimize their processes even more. In particular, the subsequent implementation of these enhancements falls within my area of responsibility.

So there is a lot of imagination and creativity in this job. But the skill set also includes mental flexibility, the ability to adapt to continuously changing situations, and in-depth business knowledge about the industries and specific requirements of our customers such as Autoscout24, the agency moccamedia, or the telecommunications company Vodafone. In short, a large portion of open-mindedness is absolutely necessary. Without that, you simply can't be successful as a cloud developer.

- How is your position integrated into the corporate structure? That is, to whom do you report and with whom do you work? 
Our team structure in the Product Management department is hierarchical. Each sub-department (Base Services, Product, IT Infrastructure) is represented by a Product Owner (in the case of IT Infrastructure, an IT Infrastructure Manager), who reports directly to the Head of Product Management. This person is responsible for the entire development and tech area and reports directly to our CEO.

I myself am part of the Base Services team, which is very closely integrated with my colleagues from the Product team. 
- Of course, the role of Cloud Developer is interpreted differently in each company. What perspectives do you miss out on that are fundamentally part of the job description? 
As is so often the case in the life of a developer in a software company, the motto is "after coding is before coding." Even if actual service cases are not on our daily agenda, we are constantly optimizing things, developing and rolling out new features, or even, as is currently the case, setting up a completely new digital customer experience solution and bringing it to market. There is little time to celebrate successes at work – especially the small ones, which make a big difference.

But what many of my colleagues in other companies often complain about, namely that too few resources are available for training on the job and keeping up to date with trends, is not the case at matelso. We regularly have the opportunity to attend conferences or training courses – and we take advantage of them. In this way, we continuously expand our knowledge of the latest technologies, which we then incorporate into our solutions and thus make them useful for our customers.
- What do you enjoy most about your job? 
The feeling of having creatively and successfully solved a complex, technical problem concerning our SaaS software products. When the result looks good and generates added value for our customers, this feeling is twice as nice.
- What are you particularly grateful for?  
My team and colleagues throughout the company are simply great. You don't experience that at every employer and it's really something special. You're never alone, and there's always someone who's there to support you with a fresh idea, special knowledge, or just an encouraging word when you're in need. In addition, I have had the experience at previous career stations that my specific position was often occupied by computer scientists with a degree. I am therefore doubly grateful that I was offered the position at matelso with my training as an IT specialist for application development – hence, with no university degree.


- Particularly in the digital industry, there is often no longer a classic apprenticeship. How did you get your position?
 
I would say: quite classically via the IT specialist apprenticeship and a general interest in IT and coding. I was already a technology enthusiast as a child and decided early on to pursue a career in this industry.
- What tip would you give to a newcomer or interested career changer who also wants to become a cloud developer?
 
In three words: code, code, code.

Simply start at home on your PC or laptop, launch your first own projects and, above all, keep at it. After all, you only learn by doing! As a young person or career changer, you must not let failures dissuade you from your dream. Just do it and create momentum, that's the best way to reach your goal. That's how it worked for me.
Wenn euch die Inhalte gefallen haben und Ihr mehr über unser Unternehmen und unsere offenen Stellen erfahren wollt, schaut doch auch einmal auf unserer Karriere-Seite vorbei:

Offene Stellen  

Aktuell sind wir nämlich am wachsen und suchen kontinuierlich neue Kollegen, die mit uns zusammen unser junges, dynamisches MarTech-Unternehmen weiterentwickeln wollen.

Insbesondere suchen wir aktuell: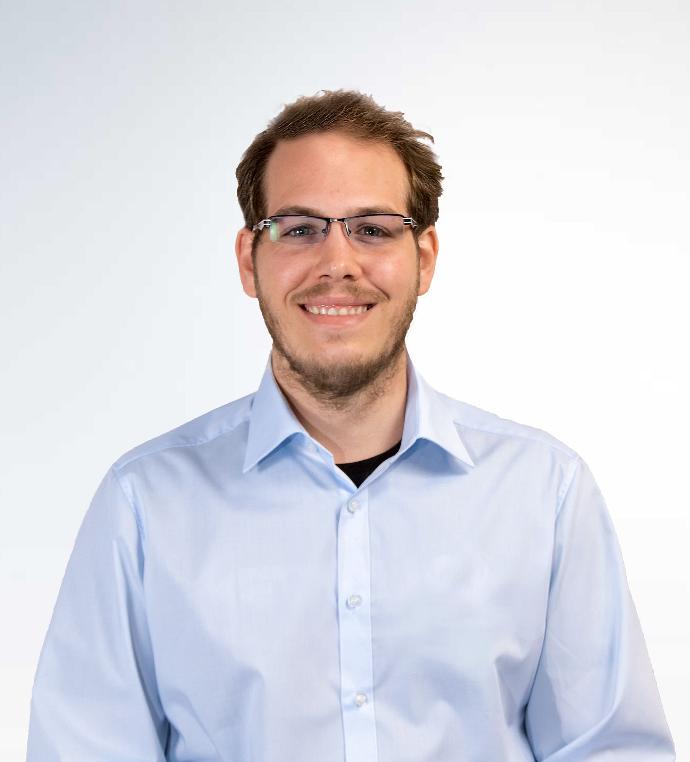 Felix Pattmöller
Felix Pattmöller ist Cloud Developer beim MarTech-Unternehmen matelso in Kaiserslautern. In dieser Position er maßgeblich mitverantwortlich, dass die matelso Plattformen für Call Tracking und Digital Customer Experience kontinuierlich verbessert werden und immer up-to-date sind.

LinkedIn