Referenzkunden gesucht:

Profitiere von attraktiven Konditionen und werde auch Du einer unserer Start-Kunden für die neue matelso platform for a communication based lead management. Mehr zur Plattform erfahren. 
We are proud to announce that our cloud-based, turnkey software-as-a-service (SaaS) solution matelso platform for a communication based lead management is now available online for customers! In its first incarnation, the innovative system addresses the topic of lead management, improving all marketing and sales processes – which pays directly into companies' revenues.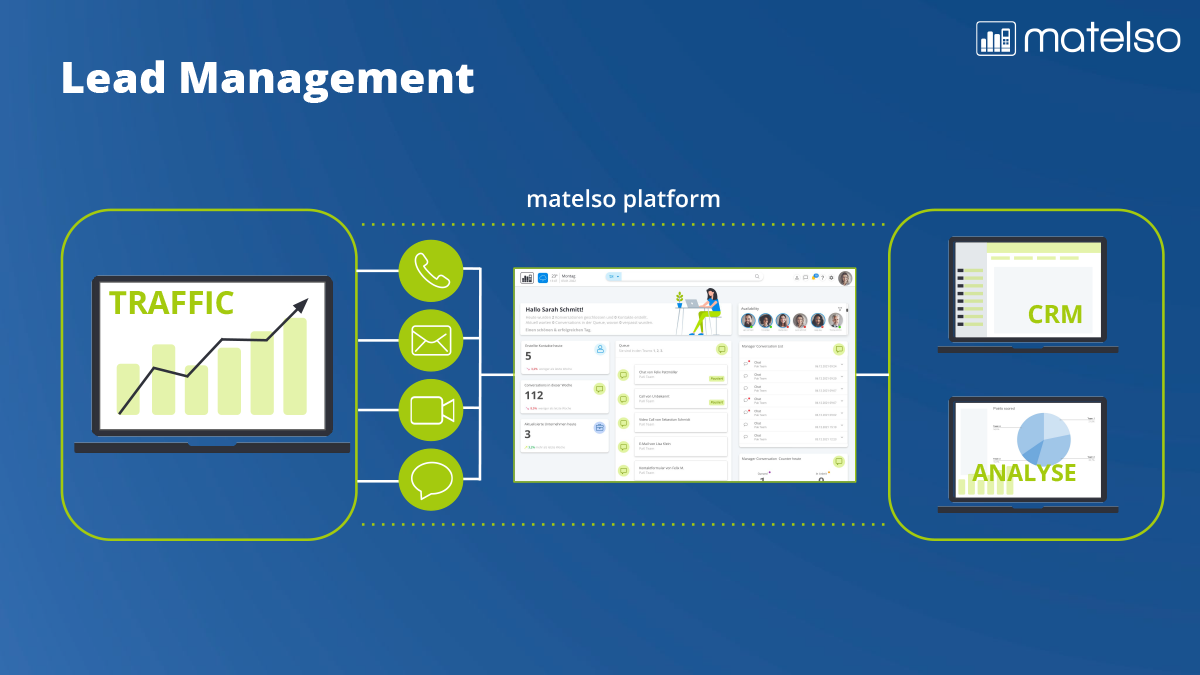 To achieve this, we focus on tracking, analyzing and visualizing business data from conversational touchpoints – (video) telephony, chat, e-mail or contact forms – and making the information actionable in real time. Why? Simple: The information from these direct interaction channels between customers and companies is particularly relevant for marketers, as it contains a lot of insights about decision making and communication habits, but also about specific customer requirements and challenges. Based on these insights, online marketing campaigns and digital-based customer communication can be significantly optimized. In addition, decision makers can improve all business processes throughout the company – above all their lead management processes, which lead directly to more sales.

"Lead Management is THE bottleneck for many companies – especially for SEMs. ​ This is confirmed by many conversations I have had, including at DMEXCO. Our experience shows that because of inefficient lead management processes, companies often lose up to 30 percent of their inbound leads – a value that no company can afford today," says Frank G. Froux, our founder and CEO. "With our matelso platform, we ensure that no contact is left unanswered or lost. As a result, the quantity and quality of leads as well as conversion data increase, which directly leads to higher sales success."
In addition, companies can generate further benefits for themselves with the matelso platform: : 
They increase budget efficiency as well as transparency across the entire marketing and Lead Management process.

They gain value-added insights about their customer journeys. 


​They can seamlessly transfer collected customer data to connected third-party systems such as CRM or analytics tools.

They create a simpler IT infrastructure to free up additional resources for Lead Management activities – keyword: shortened toolchain.
Our team is currently working on further advancing the role of future technologies such as artificial intelligence (AI) and big data in the matelso platform. With the help of smart solutions, new services will be available in the future that leverage additional value for customers – such as analyzing, recognizing and visualizing speech patterns, keywords, brand messages and moods in the human conversation structure in real time. This enables marketers to leverage all conversational touchpoints to make the customer experience more engaging, efficient and beneficial for users across the entire customer journey.